Charles Lewton-Brain receives Saidye Bronfman Award
×
Charles Lewton-Brain, Artist - goldsmith
×
Charles Lewton-Brain, Artist - goldsmith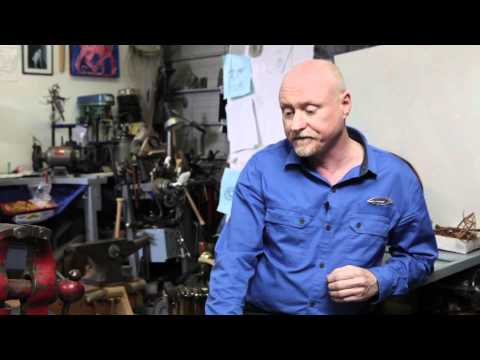 Charles Lewton-Brain receives Saidye Bronfman Award
Canada Council for the Arts honours eight Canadian greats for the 2012 Governor General's Awards in Visual and Media Arts
The winners of the 2012 Governor General's Awards in Visual and Media Arts were recently announced by Robert Sirman, Director and CEO of the Canada Council for the Arts at TIFF Bell Lightbox. Each has, in their own way, made a mark on Canada's dynamic art scene through their groundbreaking work. They are:
    Margaret Dragu, performance artist
    Geoffrey James, photographer
    Charles Lewton-Brain, artist-goldsmith (Saidye Bronfman Award)
    Ron Martin, visual artist
    Diana Nemiroff, art gallery director and curator (Outstanding Contribution)
    Jan Peacock, visual artist - media and installation
    Royden Rabinowitch, sculptor
    Jana Sterbak, visual artist
In addition to a $25,000 prize from the Canada Council, the winners will each receive a special issue medallion sponsored by the Royal Canadian Mint.
"Throughout their careers, the 2012 winners of the Governor General's Awards in Visual and Media Arts have surprised, touched and inspired us," stated His Excellency the Right Honourable David Johnston, Governor General of Canada. "Let us celebrate these Canadian artists whose creativity and talent we can all be proud of."
"Artists are alchemists, and the 2012 Governor General's Visual and Media Arts laureates are masters at transforming everyday experience into gold," said Robert Sirman, Director and CEO of the Canada Council for the Arts. "These awards celebrate artists who have played a key role in shaping the Canada of today, and who continue to have a lasting and positive impact on our culture." 
Charles Lewton-Brain
Charles Lewton-Brain has made a lasting mark on fine crafts both in and outside the studio. His jewellery - distinctive in that it shows the natural outcomes of tensions that occur when metals are pushed to their limit - has been exhibited across Canada and abroad. He teaches at the Alberta College of Art and Design (1986-present), and has written extensively on goldsmithing techniques, safety and studio photography. He and his spouse, artist Dee Fontans created and ran a centre for jewellery studies in Calgary (1991-2002) and collaborated to introduce jewellery into performance art works. A tireless innovator, Lewton-Brain created his own publishing company, Brain Press, cofounded Ganoksin.com, which has become the world's largest free online resource for jewelers, and invented a technique called "foldforming," which uses simple hand tools to rapidly shape sheet metal. He has served on the boards of the Canadian Conference for the Arts, the Canadian Crafts Federation (president for two years), and the Alberta Craft Council. He has lived in Calgary since 1986.